Kvevri-Wine-Producer
Kvevri-Wine-Producer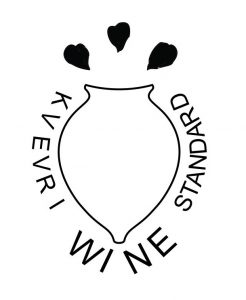 We have a common motto: ''Our wine should be so good that you wish to enjoy it together with your best friends.''
Tradition stays alive as long as it is functioning well. In Georgia, the tradition of making wine in a kvevri (clay jar) has been functioning for several thousand years. Therefore this method was listed World Cultural Heritage by UNESCO in 2013.
During Soviet times, only alcohol content and quaffable taste were important in wine, which was industrially produced in large quantities for the complete Soviet Union. Georgian farmers, however, have continued to make good quality natural wine with simple methods. After all, to them wine has always been a somehow sacred means of communication. You can of course consume factory produced wine, but you cannot speak to God through such kind of beverage. So, thank God for the ritualised celebrating of toasts to the living and dead, because that is one of the reasons why kvevri- wines still exist today. A small group of kvevri-winemakers have committed themselves to safeguard the natural features and the important role of kvevri-wine, in compliance with the guidelines of the Kvevri Wine Standard.
Our members grow grapevines according to local traditional methods. Tending biodiversity in the vineyard and maintaining a healthy ecosystem are our primary aims. İn order to achieve our goals we have adopted a charter and corresponding guidelines that reach far beyond the general guidelines for controlled organic cultivation. Natural wine making has a very long tradition in Georgia. Our way of vinification follows this tradition. Fermenting and maturing of the wine takes place in large clay jars. Similar methods and clay jars are used in several other countries. Some of them are known as: Küp, Piso, Jarre, Dolia, Talha, Churi, Tinaja, Kame, Karas, Pithari, Amphore, Amfoura, Amfora, Anfore.
Wine producer who produce their wines according to our charter and the corresponding guidelines, migt become entitled to use our protected logo (Kvevri-Wine-Standard) on their wine bottles.
 info@kvevri-wine.org                                   www.kvevri-wine.org

 info@kvevri-wine-standard                    www.kvevri-wine-standard.com

Our importer for Europe is:
Georgian Wine
Paata Bolotashvili
Tel.: +49 (0) 177 413 48 49                                                                                                                                      e-mail: info@georien-wein.de